Altadena Heritage is a nonprofit volunteer-based advocacy organization dedicated to protecting, preserving, and raising awareness of our foothill community's rich architectural, environmental, and cultural heritage.
Celebration Honoring
Lt. O. Oliver Goodall
Sunday February 16th, 1pm with dedication at 2pm
679 W Harriet St. Altadena 91001
Community event to honor Tuskegee Airman Oliver Goodall at the house he lived in for 50 years. Altadena Heritage is a supporting partner for this event.  For more information:  www.theolivergoodallproject.com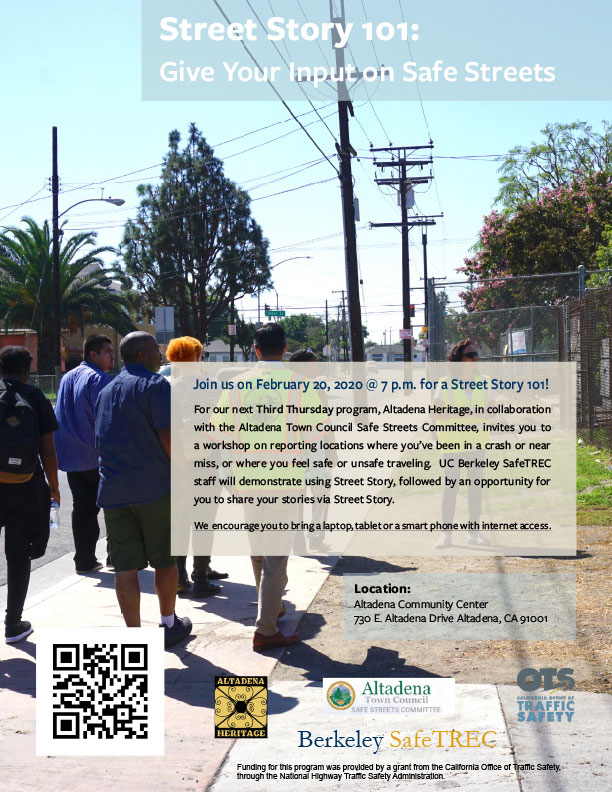 Street Story 101
Third Thursday
Public Workshop
Thursday February 20th,  7pm
Altadena Community Center, 730 E. Altadena Drive
Had a crash, or near miss in Altadena? Feeling unsafe while traveling?
Street Story is a community engagement tool that allows residents, community groups and agencies to collect information about transportation collisions, near-misses, general hazards and safe locations to travel.
Staff from UC Berkeley SafeTREC will demonstrate how to use the Street Story tool, followed by an opportunity for you to share your stories.
We encourage you to bring a laptop, tablet or a smart phone with internet access.
Altadena Heritage is holding this free workshop as part of our Third Thursday public programs in collaboration with the Safe Streets Committee of Altadena Town Council.
Back in the late 1980s, Altadena Heritage made the leap from committee of the Town Council to independent 501(c)(3). The mission: to protect and preserve Altadena's architectural, historical, cultural, and natural heritage.
Among our first projects was an attempt to gain California Landmark status for Owen Brown's hillside gravesite (he died here in 1889). Owen was among the last survivors of the failed 1859 raid on the federal armory at Harper's Ferry, Virginia, led by his father John Brown.