Altadena Heritage is a nonprofit volunteer-based advocacy organization dedicated to protecting, preserving, and raising awareness of our foothill community's rich architectural, environmental, and cultural heritage.
Owen Brown pages under construction.
Please check back February, 2024
It is unfortunate when trees are lost – uprooted by wind or fire…
The application for creating LA County's first historic district here in Altadena (Historic Highlands) is still under consideration. Last month, we reached out to our readers regarding this issue being considered by the Altadena Town Council.  The residents that requested the designation worked with the County staff for about two years to meet all of the requirements for such a designation, including approval by over 50% of the property owners within the proposed boundary. While not a requirement of the application, the applicants requested that the Altadena Town Council review the application and offer support to the Board of Supervisors.
Unfortunately, there was confusion at the Land-Use Committee, so no recommendation was made. There seems to be significant concern that the residents may not fully understand the significance of being in such a district.  When the Town Council reviewed the proposal and comments from the Land-Use Committee, they expressed that additional public outreach should be conducted before final consideration by the Board of Supervisors.
Given the importance of community support and awareness of the rules of living in an historic district, the County staff has initiated a review of the additional regulation that historic districts include.  Rob Bruce, Preservation Chair has stayed in contact with the County planner on this project and will continue to attend these meetings.
Altadena Heritage Feature
The Importance of Trees
Learn to Select, Plant, and Care for Trees
Altadena Heritage Newsletters Online
Land Use Issue
Spring Summer 2023
Wildlife Issue
Fall Winter
2022
Wildfire Issue
Spring Summer 2022
Sustainability Issue
Fall Winter
2021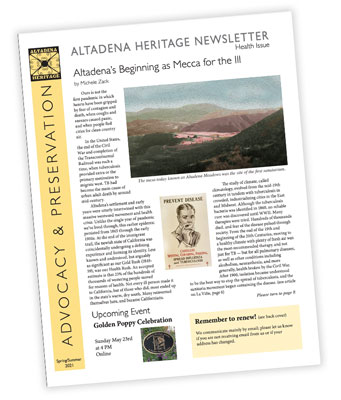 Health Issue
Spring Summer
2021