Kenneth Meyer
Treasurer
Kenny is Altadena Heritage Board Treasurer.
He is a retired software engineer with 25 years software development experience in both large organizations and startups. Prior to his work in software, Kenny worked for 15 years in TV and film production.
Kenny is a Texas native who moved to California to work in the film industry—mostly on commercials and political media.  After the film business he worked as a software engineer and software manager for the Jet Propulsion Laboratory and numerous startups.
If the weather is good, you can probably find him hiking in the San Gabriels or the Sierras.
Sharon Sand
Chair
Sharon Sand is Chair of Altadena Heritage.  She has worked in cancer genetics research for over 20 years working on grant applications, project management, relational databases and international consortium database administration.  She is author and co-author of multiple publications resulting from this work.
Before joining the Altadena Heritage board she was founding Chair of the Altadena Library Foundation.  Sharon is a master's student at UCLA in Urban and Regional Planning and has an area of concentration in Design and Development.
She lives in Altadena with her husband Charles and their dog Cookie, in the home where they raised their two daughters.
Anne Chomyn
Secretary
Anne Chomyn joined the Altadena Heritage Board in January, 2018. She was the lead on the maintenance of Old Marengo Park in her first year on the Board. She has organized Third Thursday programs on Climate Change and Complete Streets.
Because of her interest in Climate Change, she is an advocate of our urban forest and will do what she can to grow and maintain Altadena's tree canopy. Anne represents Altadena Heritage at regular meetings of other Altadena community groups.
More...
After retiring, Anne represented her census tract on the Altadena Town Council for two years. As liaison for the Town Council, she worked with Altadena Heritage on the 2016 Parks Needs Assessment. She also volunteered at Triangle Park, the joint project of Altadena Heritage and Amigos de Los Rios. Anne has also worked with Neighbors Building a Better Altadena. She is Chair and founding member of the Altadena Town Council Filming Committee and founding member of the Altadena Town Council Safe Streets Committee.
Anne lives with her partner, Larry Goldfield, and two dogs and a cat. She likes to garden and enjoys garden visiting. She was born in Germany, has traveled widely in Europe, and has been to China and Japan multiple times.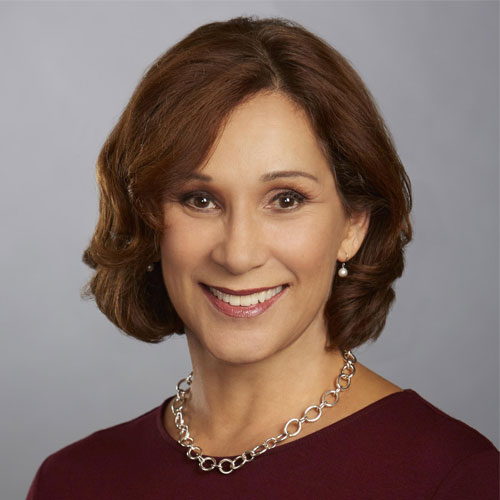 Val Zavala
Assistant Treasurer
Val Zavala is a former public television journalist and news executive. She retired in 2018 after 30 years at KCET, public television for Southern California. Over her career she was a reporter, anchor, producer and V.P. of News and Public Affairs. She covered major issues impacting Southern California politics, education, healthcare, environment, demographics, the economy, arts and culture. As anchor/reporter for the long-running SoCal Connected and Life & Times, Zavala has won 19 L.A. Area Emmy® Awards, eight Golden Mikes and numerous Los Angeles Press Club awards. She also won a prestigious Walter Cronkite Excellence in Journalism award for her 1-minute ballot proposition explainers.
More...
Val received her master's in journalism from American University in Washington, D.C. She received her B.A. in Latin American Studies from Yale University. She was a John S. Knight Journalism Fellow at Stanford University in 1992
Val joined the Altadena Heritage board in January 2020. In addition to her work with Altadena Heritage she serves on the boards of public television for southern California as well as Alzheimer's Greater Los Angeles.
She lives in Altadena with her artist-husband Mark Greenfield and their dog Casey. She lives in Altadena with her artist-husband Mark Greenfield and their dog Casey. She has a deep concern for the environment.
She enjoys gardening, hiking, and yoga and pickle ball.
Alma Apodaca
Alma serves as the chair of the Communication Committee.
Alma has over 20 years experience in Human Resources with expertise in workforce strategic planning, diversity and inclusion, learning and leadership development.  She is an SVP, HR Business Partner for City National Bank in downtown Los Angeles, and a speaker, workshop facilitator and coach on finding your purpose and living your dreams.
Alma recently joined the Altadena Heritage board and has held previous board appointments for Planned Parenthood of Pasadena/SGV, Leadership Pasadena (board chair), National Diversity Council, Los Angeles Diversity Council (Education Chair) and Toastmasters (area director, education chair and president of local club).
Alma is a self-taught wine educator and occasionally leads wine classes for fun.  She and her husband Greg love to travel and live in the foothills of Altadena.
Michele Zack
Michele chairs the Membership and Development Committee, and is a past chair of Altadena Heritage.
She is an activist, historian, and author; her work includes two award-winning histories, Altadena: Between Wilderness and City and Southern California Story: Living the Better Life in Sierra Madre.
Her most recent employment involved managing and programming national Teaching American History grants in partnership with the Huntington-USC Institute on California and the West. These served local school districts by providing professional development to improve the teaching of American History. In the 1990s, she lived with her family in Thailand, and reported for AsiaWeek and Far Eastern Economic Review.
More...
Now semi-retired, she continues to work as an independent scholar — conducting most of her research at the Huntington Library.
As a long-time board member, Zack has held most board positions, except treasurer.
She is completely taken up with ongoing research, community service, travel, and enjoying life with her husband Mark Goldschmidt, a former chair of Altadena Heritage and its current newsletter editor.
Catherine Cadogan
Catherine has lived in Altadena for nearly 20 years with her husband Tim and three kids Emma,Becca and Callum.
She was born in the UK and grew up in Birmingham in the English West Midlands. She went to the London School of Economics and soon after got married and moved to California so her husband could attend Business School. After graduation they decided to stay in California.
Catherine joined the Board in late 2019 and is responsible for Altadena Heritage events.
She initially worked in Silicon Valley and after some web consulting, and a few internet companies, worked for Overture in Pasadena (web search advertising) and then Yahoo in Santa Clara (heading up Advertiser Product Management for Yahoo Shopping, Travel and Local).
More...
 After two years back in the Bay Area she returned to Altadena where she has worked in a couple of local start ups and now focuses on being a taxi driver, cook and personal assistant to her three kids.
Catherine and her family really enjoy living in Altadena. Her husband, Tim, is a keen ultra runner and ex member of the Sierra Madre Search and Rescue Team and her daughter Emma is a Sheriff's Explorer with the Altadena station. They were members of the Altadena Town and Country Club for many years.
Her introduction to Altadena Heritage was through winning the Golden Poppy award in 2019. She enjoys garden design and growing vegetables, is keen to reduce water use and encourage use of solar power. She has a strong interest in travel and history, having travelled extensively around the world.
Gina Chamberlain
Gina is a financial advisor with a background in talent and operations management at a large company in Arcadia. Prior to her career in finance, she was a teacher and ran a private tutoring academy in the San Gabriel Valley.
Gina was born and raised in Pasadena, but fell in love with the Altadena community when she moved into a beautiful rental home in the Jane's Village area. The history, architecture, trees, and friendly residents are were drew her to the community in the first place. She and her husband Ryan were finally able to purchase a home of their own near Hahamonga Park where they occasionally walk their dogs and hike the trails together. She loves to spend her time volunteering in the community and spreading awareness about the importance of trees and vegetation.