Our Endless River of Waste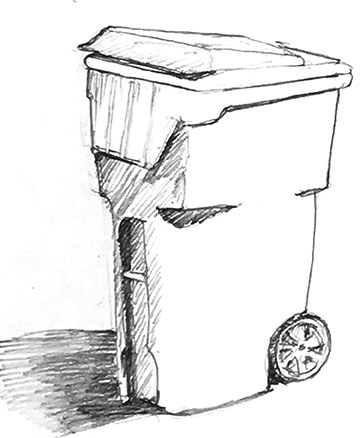 by Mark Goldschmidt
I would love to know when regular trash hauling service began in Altadena. Former Historical Society chair, Jane Brackman, told me that before the War it was the Altadena Historical and Beautification Society, and that its main beautifying function was to remove trash dumped in the town's many vacant lots. We own a 1923 house, an old trash burner graces the back of our lot, and I am forever unearthing old bottles and great quantities of broken glass and crockery in our garden. Things have evolved.
Ten years ago supervisor Michael Antonovitch signed an agreement making Athens Services the sole authorized curbside refuse hauler for Altadena. In return Athens promised a brand new fleet of natural gas powered trucks, rolling bins, bulky item pickup, customer outreach, and quite a lot more. Fees could only be raised in steps according to a formula. It was a good deal for Altadena. Fees went down by more than a third. Rather than three different haulers with stinky diesel trucks traversing every neighborhood every day, now we had only one day of noise a week. 
I have long wondered just what happens to our refuse every week, and was excited to join Val in an excursion to a state-of-the-art, highly automated recycling facility that mines our discards for marketable materials. We have shared what we learned in this newsletter; no one should ever take for granted those trucks that disappear our trash every week. Once it leaves our streets, it enters another world of logistics, technology and people. The technology at the Athens MRF (Materials Recovery Facility) was amazing, and the people we met impressed us; all were clearly dedicated and deeply knowledgeable about the surprisingly complex field of solid waste management.