Golden Poppy & Garden Party 2023 Edition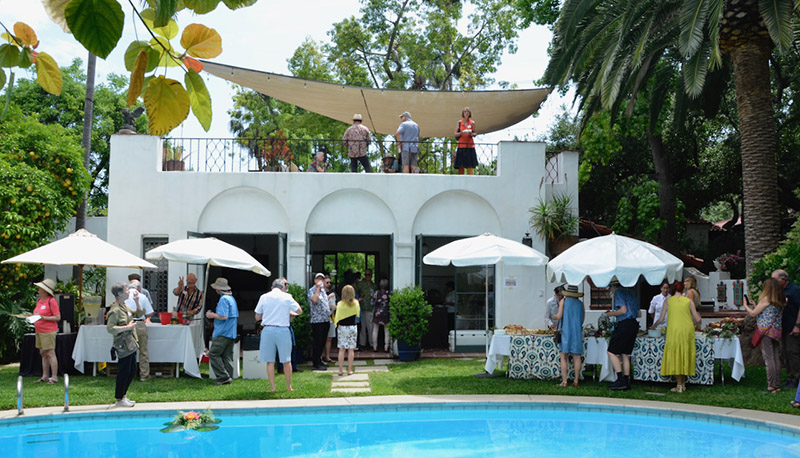 Heartfelt thanks to Mark and Carol Forbush, who graciously hosted the 20th annual Golden Poppy Awards & Garden Party in their exquisite garden.  Their warm hospitality created a memorable experience for all.
It was a perfect day, mild and sunny, but as the afternoon unfolded, the lightest of showers descended upon the gathering, adding a touch of magic to the event. The mingling of raindrops and laughter echoed through the gardens, creating a perfect ending to a truly enchanting day.
The highlight of the event was a ceremony acknowledging Golden Poppy winners who have created beautiful, sustainable gardens that benefit the community by making their neighborhoods more beautiful.  Each received a bronze plaque to display among their plantings. The awards served as a testament to their hard work, creativity, and green thumbs.
On the morning of the following Sunday, a bicycle tour of winning gardens was led by Dorothy Wong of the Altadena Bicycle Club. Forty or so people joined the pack at Triangle Park and rode off into the foggy morning for a joyful ride around Altadena.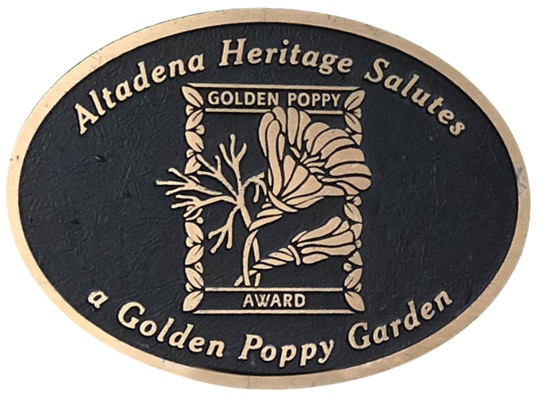 2023 winners of the Golden Poppy Garden Award display certificates of appreciation from State Senator Portantino and Supervisor Kathryn Barger.  Left to right: Ann Marie Hickambottom, Diane Marcussen, , Diane Marcussden, Daron Hovanessian holding the Golden Poppy bronze plague, Geoff Thompson, Lorie Melby, Stephen Bailey, and Dominick Carey from Assemblyman Chris Holden's office.
Lori Melby &
Stephen Bailey
609 E Mendocino St
Diane Marcussen
1603 Coolidge Ave
Geoff Thompson 
& Daron Hovanessian
2080 Garfield Ave
Rita & James Sowins
2611 Page Dr