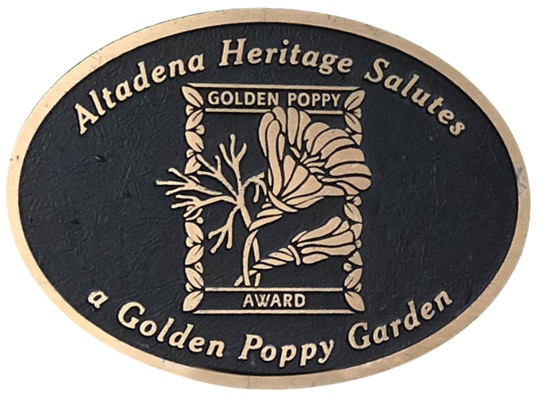 Celebrating Community
The Golden Poppy Awards began in 2004. Board member Paula Walker initiated the idea, a set of beautiful heavy bronze plaques were made and judging districts and criteria were developed. 
The Golden Poppy Awards recognize gardens that "give to the street" and beautify their neighborhoods, enhancing the community for everyone. Altadena Heritage presents these awards each spring at a garden party held at one of the many special places in this diverse and unusual community.
Criteria
The Gold Poppy Awards are presented to gardens that "give to the street".  They are gardens that enhance the beauty of Altadena's neighborhoods and contribute to the community. Although the rules are not extremely strict, we aim to highlight gardens that are environmentally sustainable and many that utilize drought tolerant and native planting.
Process
Each spring, members of the Altadena Heritage Board tour every street in Altadena.  Dividing the community into electoral districts they draw up a shortlist of 2 or 3 gardens from each.
A judging committee gets together to debate and collaborate all the choices and a final list of four winners are selected.
Awards and Celebration
Each May,  members of Altadena Heritage and their guests gather together for their annual garden party and awards ceremony.
Winning gardens and gardeners are celebrated, the famous plaques are distributed for a two year period and members of the Altadena community socialize and have fun.
Altadena Gardens
Gardens all over Altadena have received this wonderful award over the years. 
Please use this interactive map to find the winning gardens by year. 
We encourage you to walk or drive past these gardens that have "given to the street" over the years.
Golden Poppy Winners Interactive Maps
Currently Displaying 2021. Click toggle icon to view other years.
Golden Poppy Awards and Garden Party 2023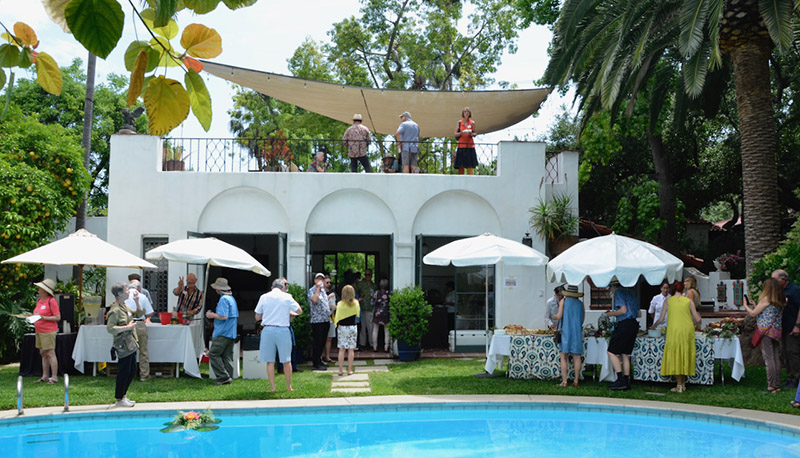 Heartfelt thanks to Mark and Carol Forbush, who graciously hosted the 20th annual Golden Poppy Awards & Garden Party in their exquisite garden.  Their warm hospitality created a memorable experience for all.
It was a perfect day, mild and sunny, but as the afternoon unfolded, the lightest of showers descended upon the gathering, adding a touch of magic to the event. The mingling of raindrops and laughter echoed through the gardens, creating a perfect ending to a truly enchanting day.
The highlight of the event was a ceremony acknowledging Golden Poppy winners who have created beautiful, sustainable gardens that benefit the community by making their neighborhoods more beautiful.  Each received a bronze plaque to display among their plantings. The awards served as a testament to their hard work, creativity, and green thumbs.
On the morning of the following Sunday, a bicycle tour of winning gardens was led by Dorothy Wong of the Altadena Bicycle Club. Forty or so people joined the pack at Triangle Park and rode off into the foggy morning for a joyful ride around Altadena.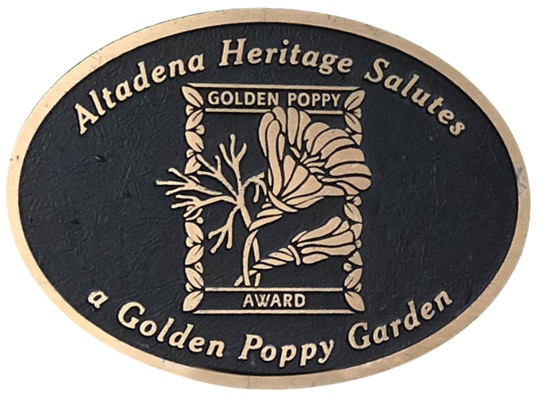 2023 winners of the Golden Poppy Garden Award display certificates of appreciation from State Senator Portantino and Supervisor Kathryn Barger.  Left to right: Ann Marie Hickambottom, Diane Marcussen, , Diane Marcussden, Daron Hovanessian holding the Golden Poppy bronze plague, Geoff Thompson, Lorie Melby, Stephen Bailey, and Dominick Carey from Assemblyman Chris Holden's office.
Lori Melby &
Stephen Bailey
609 E Mendocino St
Diane Marcussen
1603 Coolidge Ave
Geoff Thompson 
& Daron Hovanessian
2080 Garfield Ave
Rita & James Sowins
2611 Page Dr