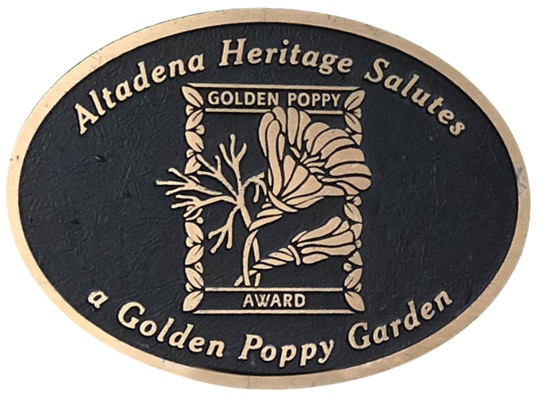 Celebrating Community
The Golden Poppy Awards began in 2004. Board member Paula Walker initiated the idea, a set of beautiful heavy bronze plaques were made and judging districts and criteria were developed. 
The Golden Poppy Awards recognize gardens that "give to the street" and beautify their neighborhoods, enhancing the community for everyone. Altadena Heritage presents these awards each spring at a garden party held at one of the many special places in this diverse and unusual community.
Criteria
The Gold Poppy Awards are presented to gardens that "give to the street".  They are gardens that enhance the beauty of Altadena's neighborhoods and contribute to the community. Although the rules are not extremely strict, we aim to highlight gardens that are environmentally sustainable and many that utilize drought tolerant and native planting.
Process
Each spring, members of the Altadena Heritage Board tour every street in Altadena.  Dividing the community into electoral districts they draw up a shortlist of 2 or 3 gardens from each.
A judging committee gets together to debate and collaborate all the choices and a final list of four winners are selected.
Awards and Celebration
Each May,  members of Altadena Heritage and their guests gather together for their annual garden party and awards ceremony.
Winning gardens and gardeners are celebrated, the famous plaques are distributed for a two year period and members of the Altadena community socialize and have fun.
Altadena Gardens
Gardens all over Altadena have received this wonderful award over the years. 
Please use this interactive map to find the winning gardens by year. 
We encourage you to walk or drive past these gardens that have "given to the street" over the years.
Golden Poppy Winners Interactive Maps
Currently Displaying 2021. Click toggle icon to view other years.
Golden Poppy Awards and Garden Party 2022
The Golden Poppy Awards
After two years online, we celebrated the Golden Poppy Awards in person again on May 22 in the amazing garden of Renata and Talmadge O'Neil.
Over 230 guests enjoyed amazing weather, caribbean fusion food, wine and drinks and a stunning venue with mountain views. Several generous companies donated prizes to our raffle, which raised funds for the irrigation system at Old Marengo Triangle. Representatives from the offices of State Senator Portantino, State Assemblyman Holden, and Supervisor Barger attended and gave certificates to our winners – in addition to the bronze plaque they can proudly display for the next 2 years.
Golden Poppy Winners 2022
Quinn Sullivan and Linda Miller
43 West Mariposa
Jane and Jeff Dillingham
1963 East Loma Alta Drive
Marta Mora and Roberto Rodriguez


1300 Morada Place
Anne and Stephen Nowlin


1701 Meadowbrook Road
We were joined by valued partners the Theodore Payne Foundation who held a pop up native plant sale, Altadenians for Clean Healthy Air, who demonstrated eco-friendly garden tools, and the Altadena Bicycle Club who will lead a tour of winning gardens.
President, Eric Callow, will be available to show and discuss great native plant options for your garden.
Club leader, Dorothy Wong, will be available to discuss biking in Altadena and improving the safety of the streets we use to view our winning gardens!
Thank You to Our Raffle Donors