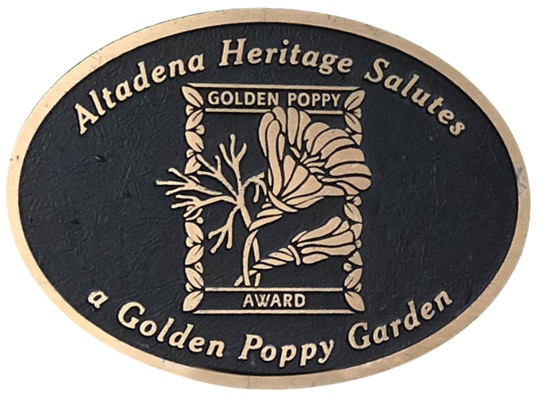 Celebrating Community
The Golden Poppy Awards began in 2004. Board member Paula Walker initiated the idea, a set of beautiful heavy bronze plaques were made and judging districts and criteria were developed. 
The Golden Poppy Awards recognize gardens that "give to the street" and beautify their neighborhoods, enhancing the community for everyone. Altadena Heritage presents these awards each spring at a garden party held at one of the many special places in this diverse and unusual community.
Criteria
The Gold Poppy Awards are presented to gardens that "give to the street".  They are gardens that enhance the beauty of Altadena's neighborhoods and contribute to the community. Although the rules are not extremely strict, we aim to highlight gardens that are environmentally sustainable and many that utilize drought tolerant and native planting.
Process
Each spring, members of the Altadena Heritage Board tour every street in Altadena.  Dividing the community into electoral districts they draw up a shortlist of 2 or 3 gardens from each. 
A judging committee gets together to debate and collaborate all the choices and a final list of four winners are selected.
Awards and Celebration
Each May,  members of Altadena Heritage and their guests gather together for their annual garden party and awards ceremony. 
Winning gardens and gardeners are celebrated, the famous plaques are distributed for a two year period and members of the Altadena community socialize and have fun.
Golden Poppy Winners Interactive Map

Altadena Gardens
Gardens all over Altadena have received this wonderful award over the years.  Please use this interactive map to find the winning gardens by year.  We encourage you to walk or drive past these gardens that have "given to the street" over the years.
Well 2020 just wasn't like other years!  With Covid-19 closing all public meetings, Altadena Heritage took the Golden Poppies online for the first time ever.  We 'zoomed' the event to our members and were joined online by over 70 households who were "sheltering at home" together. Our 2020 winners were even more accommodating than usual, allowing us to film their gardens and record interviews, which were compiled into short video presentations that can be found here on the website.  Michele Zack introduced the winners and Val Zavala moderated a short Q&A with each.  Savannah Moore from Kathryn Bargers office, presented LA County Certificates  of recognition and Chairman Sharon Sand looked forward to seeing everyone again in person next year!
Gil & Joan Acosta
2951 Santa Rosa Avenue
Maita Prout and  WIll Gaskill
2787 Highview Avenue
Paul Schimley
2122 Grand Oaks Avenue
Taylor Jacobson & John Knuth
471 W. Mariposa Street
Jaymie & Niki Bridges 
487 East Mariposa Street
Linda Marais & Derek Japha 
2060 Mar Vista Avenue
Catherine & Tim Cadogan 
2210 Midlothian Drive
Michael Hanna 
1917 Oakwood Street
Our 2019 party was held on the wild edge of Millard Canyon, at the home of Tim Cantwell and Stephani Hardy, 832 Millard Canyon Road, Altadena, CA. This home is in LaVina at the top of Lincoln Avenue.
Honor this year's Golden Poppy winners and enjoy music and food with a view to the Owen Brown gravesite, now being protected from development.
Nancy & Steve Ward
788 Florecita Lane
Debra & David Anderson
2108 Glenview Terrace
Nikki and Jayme Bridges
487 E. Mariposa Street
Stephanie & Pete Summers
111 West Manor Street 
This year's Golden Poppy was held at the home of Michele Zack and Mark Goldschmidt. Their Mediterranean-revival house was designed and built in 1922-3 by noted artist of the Golden Age of Illustration, Frank Brown. It is on the former grounds of the West India Gardens, operated from 1906 to 1920 by the Popenoe family. 
Frank Brown's artwork is included in many anthologies; locally he was well-known for designing the covers of Tournament of Roses programs. He built his home for entertaining, with a few large rooms and many French doors to facilitate indoor/outdoor circulation. Mark and Michele have expanded on Brown's vision during their 32-year occupancy.
Zapata Espinoza 
125 West Manor Street
Joseph Lane & Jay Framson 
527 East Woodbury Road
Heather & Luc Mayrand
1847 North Hill Avenue
D'Arcy & Craig Sloane
1955 Mendocino Lane
More than 130 people gathered at the distinctive Green Man Lodge on May 21 for Altadena Heritage's 13th annual Golden Poppy Spring Garden Celebration and Awards. Steve Pribyl provided shimmering live music on his uilleann pipes, an Irish folk woodwind related to bagpipes. The usual abundance of food came with wine and bubbly supplied by board member Gail Casburn of the Altadena Ale & Wine House, and beer donated by member Mark Jilg of the Craftsman Brewing Company.
Host Rover Singer presented a brief history of the original property's owner and builder, Louis Steinhauser —contractor, woodworker, and master carver. Steinhauser retired to the property in the 1940s and hand-carved the intricate woodwork that abounds on the 1.1 -acre site, including the many images of the leafy-faced Green Man indoors and out. Rover and his partner, Cal Smith, are the third owners of the home that long-time Altadena realtor and one of Altadena Heritage's founders, Astrid Ellersieck, described as "a masterpiece of residential folk art."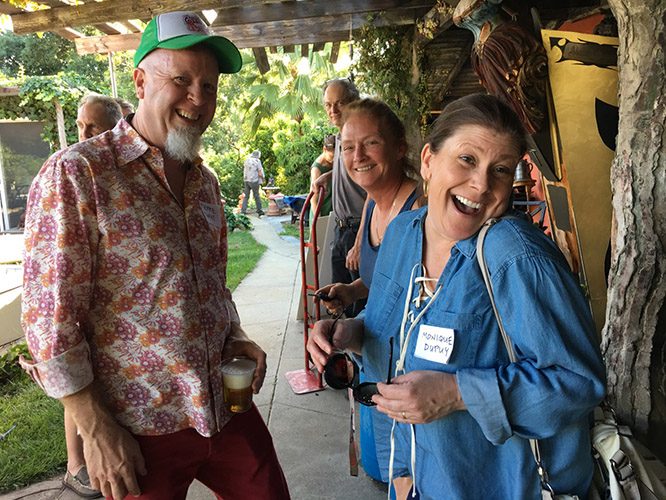 Greg DeDeker
1745 East Calaveras Street
Kazi Pitelka
3404 Canyon Crest
John & Nick Robles-Guerrini
1701 Pepper Drive
Michelle Leonard
1478 Pepper Drive
Altadena Heritage's celebration of Spring 2016 was held on Sunday, May 22, at the lovely Craftsman home belonging to long-time AH member Robin Williams, located at 562 East Mendocino Street from 3 to 6 pm for an afternoon. A celebration of festive food, luscious libations, mellow music, captivating conviviality … 
and, of course, AH's 2016 Golden Poppy Awards, which honor Altadena residents whose water-wise street-oriented gardens enhance our neighborhoods. Docent-led tours of the new Waldorf School campus next door, featuring its preschool and biodynamic gardens were conducted. 
Greg DeDeker
1745 East Calaveras Street
Kazi Pitelka
3404 Canyon Crest
John & Nick Robles-Guerrini
1701 Pepper Drive
Michelle Leonard
1478 Pepper Drive
More than 100 people attended Altadena Heritage's 11th annual Golden Poppy Awards and Garden Celebration on Sunday, May 31, 2015, from 3 to 6 pm. The event was held on the Old California-style grounds of Ed Ellis's home near Millard Canyon, and featured a groaning board of sandwiches, snacks, curry, and desserts. Mark Jilg of Craftsman Brewing Company graciously sponsored and poured his famous handcrafted Poppyfields Ale, and board member Gail Casburn presided over a selection of delicious French wines from her Altadena Ale & Wine House. 
Board member Bill Ellinger gave a brief talk on the history of Mr. Ellis's property, Casa Roca, built in 1905 by visionary Horace Dobbins. Dobbins' plan to build an elevated bicycle-way from Pasadena to Los Angeles was thwarted by none other than Henry Huntington, who, smelling competition, got a court injunction to halt construction that he claimed violated his trolley line's right of way. Casa Roca — located at 3535 Canyon Ridge Drive — was as visionary as its original owner, featuring a number of architectural elements that were advanced for their era, 
including steel-reinforced concrete, a dome for water capture and storage, and solar water heating. Among the visitors to Casa Roca during Dobbins' tenure was famous aviatrix Pancho Barnes, a family member. 
Board chair Michele Zack presented the Golden Poppy Awards. Three of this year's four recipients were in attendance and briefly described their gardens to the crowd: Megan Bergkessel and Phil Esra; Jeri Huston and Mark Rizuto, and Denise Rae Johnson. Kevin Otuska was not present to receive his bronze Golden Poppy plaque, 
which winners keep in their gardens for two years before circulating on to new winners.
Sustainability chair Michiko Lynch presented AH's inaugural "Big Tree" awards. Representatives of Waldorf School accepted the award certificate for the Scripps Torrey Pine on its property, and Peter Doms and Brenda Hurst, private owners of the "Duke of Eucs," accepted on its behalf. The third winner, the Woodbury Moreton Bay Fig, is on the County Sheriff's property.
Jaymie & Niki Bridges 
87 East Mariposa Street 
Linda Marais & Derek Japha 
2060 Mar Vista Avenue
 Catherine & Tim Cadogan 
2210 Midlothian Drive
 Michael Hanna 
1917 Oakwood Street
Nancy & Steve Ward
788 Florecita Lane 
Debra & David Anderson
2108 Glenview Terrace
 Nikki and Jayme Bridges
487 E. Mariposa Street
Stephanie & Pete Summers
111 West Manor Street 
Zapata Espinoza 
125 West Manor Street
Joseph Lane & Jay Framson 
527 East Woodbury Road
Heather & Luc Mayrand
1847 North Hill Avenue 
D'Arcy & Craig Sloane
1955 Mendocino Lane
Greg DeDeker
1745 East Calaveras Street 
Kazi Pitelka
3404 Canyon Crest
 John & Nick Robles-Guerrini
1701 Pepper Drive
 Michelle Leonard
1478 Pepper Drive
Jeri Huston & Mark Rizuto
384 East Calaveras Street
Denise Rae Johnson
182 Figueroa Street
Kevin Otsuka
2343 Glen Canyon Road
Megan Bergkessel & Phil Esra
172 West Harriet Street
487 Alberta Street
 2425 Galbreth Road
Hen's Teeth Square
2057 Los Robles Avenue
 Elline Lipkin & Richard Horowitz
468  East Marigold Street
 668 East Mendocino Avenue
 1531 Pepper Street
 Herme Britton
2936 Glenrose Avenue
James & Chantal Giddens
2174 Midlothian Drive
Jan Martin
2320 Oliveras Avenue
 Patrick Rand
456 West Poppyfields Drive
Charles Hay
1838 Vistillas Road
2200 North Altadena Drive
 Carol L. Blake
473 Concha Street
 Mary Copperud
2782 McNally Avenue 
Mary Anne Yeager
1722 Morada Place
Sylvie Andrews
451 East Poppyfields Drive
 2420 Catherine Road
 734 West Harriett Street
 Doug LaLonde
2564 North Altadena Drive
Dimitri Bovaird & Margaret Edmondson
1542 Morada Place
 Walter Hubert & Mark Saltzman
2860 Windfall Avenue
Karen Bowers
1441 East Altadena Drive
 2494 El Molino Avenue
 Kate Sullivan & Ed Verreaux
2487 Highland Avenue
Michael Gregory
78 West Las Flores Drive
Loren & Avelina Moeller
1833 Midlothian Drive
Dennis & Margaret Bridwell
4554 Risinghill Road
Jane Yoo & Jason Chuan
1548 East Altadena Drive
 1005 Athens Street
 3075 Glenrose Avenue
 2805 Highview Avenue
1025 Alta Pine Drive
3346 Canyon Crest Road
2098 Crescent Drive
3678 North Fair Oaks Avenue
46 West Manor Street
119 West Mariposa Street
1231 New York Drive
2687 Vista Laguna Terrace
2603 Boulder Road
4118 Canyon Crest Road
 1473 Carroll Drive
 3678 Fair Oaks Avenue
 2768 Highview Avenue
 1627 Roosevelt Avenue
 3023 Santa Rosa Avenue
 1234 Sunny Oaks Circle
 680 Ventura Street
 1175 Woodbury Road
2603 Boulder Road
3678 Fair Oaks Avenue
3500 Glenrose Avenue
2800 Highview Avenue
3043 Maiden Lane
2319 Mar Vista Avenue
1873 Pepper Drive
2927 Santa Rosa Avenue
313 West Terrace Street
331 Wapello Street
413 East Calaveras Street
4416 El Prieto Road
3304 Fair Oaks Avenue
3686 Giddings Ranch Road
967 Kent Street
3147 North Mount Curve Avenue
1903 Pepper Drive
2415 Porter Avenue
685 Alameda Street
3030 El Nido Avenue
35 West Mariposa Street
1215 East Mendocino Street
3208 North Mount Curve Avenue
48 Reever Way
1915 Roosevelt Avenue
2831 St James Place