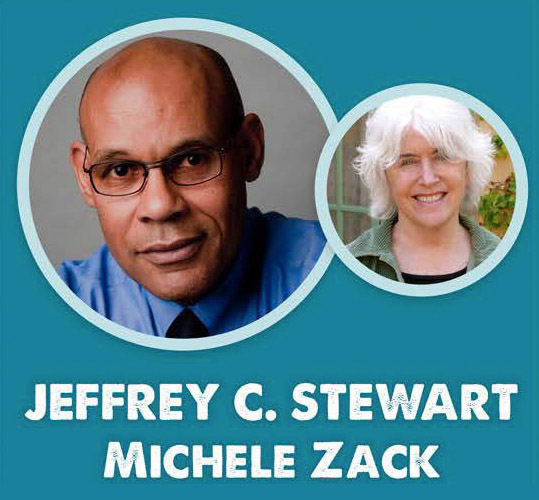 A Conversation with Jeffrey C. Stewart,
2018 National Book Award Winner,
and Michele Zack
Crucible of Art: Altadena as a Special Space in Black History
Saturday, February 9, 2:00 – 4:00pm
Altadena Main Library
Great "in conversation" with National Book Award winner Jeffrey C. Stewart and historian Michele Zack at a Black History Month event co-sponsored by Altadena Heritage and the Library on Saturday. Art, the philosophy of Alain Locke, and Altadena as a special space in Black History were topics covered. Over 100 people participated!
Jeffrey C. Stewart is Professor in the Department of lack Studies at the University of California at Santa Barbara in the United States. Oxford University Press recently published his biography, The New Negro: The Life of Alain Locke, which won the 2018 National Book Award for Nonfiction.
Born in Chicago, he moved with his family at age 14 to Altadena, California, and attended John Muir High School. He went to UCLA and UC Santa Cruz. Upon graduation from Santa Cruz, he attended Yale University, where he received a Ph.D. in American Studies. He has taught at Yale, Tufts, UCLA, Scripps College, Howard, and George Mason University before coming to UC Santa Barbara. Jeffrey has studied the issues of race, culture, and systems of knowledge in art, history, literature, music, and philosophy, but his enduring interest has been in African American intellectual history. Among several honors and fellowships, Stewart was a Fulbright Professor of American Studies at the University of Rome III in 2003, a W.E.B. Du Bois Fellow in 2005, and a Charles Warren Fellow in American History at Harvard University in 2011-12. In addition to his biography of Locke, Stewart is the author of several articles, books, and exhibition catalogues, including Paul Robeson: Artist and Citizen and 1001 Things Everyone Should Know About African American History.
Michele Zack is an award-winning writer, journalist, and historian whose work has been twice recognized by the American Society for State and Local History. She reported for AsiaWeek and Far Eastern Economic Review in the 1990s when residing in Thailand, where she also wrote economic development speeches for three prime ministers and other officials. In California, she worked with the Huntington-USC Institute on California and the West writing federal grants and developing contextual programs to link local to national history and improve the teaching of American history. 
Her most recent book The Lisu: Far from the Ruler brings the ironic worldview of one of the smallest and last groups of stateless people to life through vivid, often amusing accounts of individuals, communities, regions, and practices. The Lisu's path to national and global citizenship illustrates the trade-offs all modern people have made, and their egalitarian culture provides insight into current political choices in a world turning toward authoritarianism.
In 2006, Zack received the Donald H. Pflueger Local History Award for her book Altadena: Between Wilderness and City from the Historical Society of Southern California. In her local history work, Zack has concentrated on racial change, the history of PUSD, and the arts in Altadena.