In our campaign to combat the Urban Heat Island effect and increase the urban canopy of Altadena and surroundings, Altadena Heritage is offering its second tree giveaway in the Urban Heat Island series. This giveaway is being done with the support of Southern California Edison and applications should be submitted by Nov 3, 2021.
Understanding the tree descriptions in this list
Evergreen, semi-deciduous (partially or briefly deciduous), and deciduous trees are indicated by E, S, and D, respectively.
Sizes at maturity are indicated as Height x Width, for example, 20-25' x 15' means that, generally, the mature size of the tree will be between 20 and 25 feet tall and 15 feet wide.
Many factors can influence the final size of the tree, including shade, root run, and geographical location. The sizes given in SelecTree are not always accurate for Southern California. We have tried to give you sizes you can expect in this area.
Tree images in the list below are from the SelecTree website. 
The list below presents a brief description of each tree. You may read more about each tree, including growth rate, sun or shade preference, and much more, by clicking on its botanical name.
The link will take you to that tree's entry in SelecTree, a database maintained by the Urban Forest Ecosystems Institute at Cal Poly State University, San Luis Obispo.
Small Trees  – Up to 25 Feet Tall
Bauhinia variegata  Purple Orchid Tree.  E, or sometimes D, 20-35' x 20-25'. Moderate shade. Moderate water needs. Bright green leaves and beautiful purple-pink flowers. It is naturally multi-stemmed but can be trained into a single-trunked (standard) tree.
Cassia leptophylla   Gold Medallion Tree or Brazil Pink Shower Tree. S, 20'-25' x 30'. Moderate shading, requires a moderate amount of water and prefers fast draining soil, full sun, seeds are considered poisonous, yellow flowers in summer.
Parkinsonia 'Desert Museum' Palo Verde. A hybrid. Parents are native to the Sonoran and Chihuahan Deserts of the southwestern U.S.  D, 20′ x 20-25′. Throws filtered shade. Very low water needs. Full sun exposure. This tree has vigorous growth (24″-36″/year) and a sturdy, upright branching habit with oval, light green leaves and smooth green bark. It provides a brilliant and rather conspicuous fragrant yellow bloom to announce the arrival of spring. In the fall, it produces a very large brown legume. Two single-trunk trees available. Others are multi-trunk. Make a note in Comment section if you have a preference. 15 gallon.
Sambucus nigra subsp. cerulea Blue Elderberry. Native to Western North America. D. 20′ x 10-20′ though often smaller and bush-like. Medium to heavy shade. Medium water needs. Partial shade to full sun.  Fast growing up to 36″/year. Often produces water shoots from base, which should be pruned out. This tree has a showy white or cream flower in the spring or summer and small mostly blue berries in the fall or summer.  Very attractive to birds. 1 gallon.
Medium Trees  – 25 to 40 Feet Tall
Jacaranda mimosifolia  Jacaranda. S, 25-40' x 25-40'. Moderate to moderately low shading, well drained soil and drought tolerant, full sun, showy purple flowers in spring or summer and attracts birds.
Koelreuteria bipinnata   Chinese Flame Tree. D, 20-40' x 30-40'. Moderate shading, moist soil, full sun to partial shade. Showy yellow flowers in summer or fall.
Schinus molle  California Pepper, Peruvian Pepper. E, 25-50' x 25-40'. Moderate to dense shading, moist to dry soil, drought tolerant, full sun to partial shade, has fragrant flower and fruit, and attracts bees. Old trees will become hollow.
Large Trees  – Over 40 Feet Tall
Quercus chrysolepis Canyon Live Oak. California native tree. E. 20′-65′ x 20′-30′. Will give heavy shade depending on location.  Low water needs. Partial shade to full sun. Grows about 24″/year. Medium brown acorns in the fall or winter. Inconspicuous flower and the bark ranges light green, gray or red brown, furrowed, scaly, or smooth.  This California native attracts many insects, reptiles, amphibians, mammals and birds providing perching, nesting, resting, or foraging sites. Can be hard to garden under. Note that once the diameter reaches 8 inches, it becomes a protected tree in unincorporated L.A. County. Oak tree permits may then be required of you and your neighbors for pruning or construction in the vicinity of the tree. 1 gallon.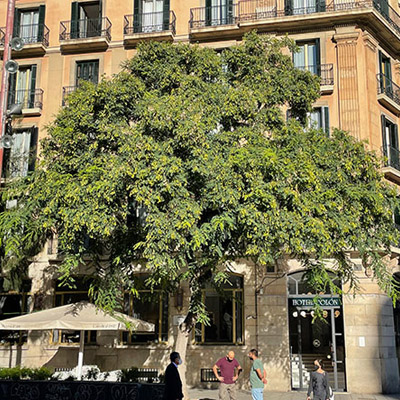 Tipuana tipu  Tipu Tree. D or S, 25-50′ x 25-50′. Gives moderately dense shading, moist to dry soil. Mature trees are drought tolerant. Showy yellow or orange flowers in summer. Prune regularly for strong structure. Young trees may be awkward-looking. Gets Tipu psillid.  15 gallon.
Tree images are from the SelecTree website. 
No warranties or guarantees as to the accuracy of the data and information in this list are expressed or implied. Altadena Heritage shall not be responsible for any loss of profit, indirect, incidental, special, or consequential damages arising out of the use of the data and information provided here.