AltaDitty Hit The Right Note With AH Members
On Saturday, August 20, in the tradition of last year's AltaDangerous story slam, Altadena Heritage presented AltaDitty, an evening of Altadena-related songs and poems performed by residents and fans. AltaDitty was curated and emceed by Altadena's own Bill Burnett, singer/songwriter extraordinaire, who assembled a stellar line-up of pros and amateurs to help us celebrate our community.
AltaDitty was held at Camp Honeypot in the lovely and eccentric garden belonging to AH members Michelle Huneven and Jim Potter. The event was free and open to AH members only, many of whom brought delicacies to share and participated enthusiastically in the singalongs.
Altadena residents and aficionados who performed include: Bill Burnett, Peggy Sue Davis, Pauline Dutton, Liz Goetz, Joe Grueter, Sandi Holden, Jim Kelly, Sarah Larman, Elline Lipkin, Mary Lea Ray, Neil Rutman, Mary Jean Shaffer, Michele Zack, and Alan Zorthian.
What will next year's summer "AltaDiversion" offer members? Join AH, and you'll get to join in the fun!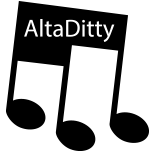 Al … Altadena

Al … Altadena
Al … Altadena
Al … The name's Altadena but you can call me AlOh my dad was Mt. Lowe
And my mama was the Arroyo
I was born to be below and also up above
Millionaires planted trees
Built their mansions right on top of me
Deodara now grows free
She's my one true loveAl … Altadena
Al … Altadena
Al … The name's Altadena but you can call me Al
Pasadena, sleek and tanned
Wanted to make me
Part of her great land
But I was, and still am
Unpersuaded
Cause I'm stubborn and proud
I don't follow any crowd
And I stand here unbowed
And unincorporatedAl … Altadena
Al … Altadena
Al … The name's Altadena but you can call me Al© 2016 Bill Burnett
Board member Michele Zack, backed by AltaDitty emcee/curator Bill Burnett, Maryjean Shaffer and her student Sarah Larman, belts out her original composition, "Ballad of the Popenoes." Photo by Bill Ellinger.
Ballad of the Popenoes*

(Sung to the theme song from  Gilligan's Island)

In Altadena, long ago,
Plant explorer Popenoe
Came up with a dandy avocado
Its name was Fuerte: "Strong."
Strong, strong strong!

West India Garden was the home
For that and many more:
Macadamias, persimmons, loquats.
Fred opened market doors.
Doors, doors, doors!

His strapping sons to far off lands
He sent in search of fruit.
Iraq, Iran, the Levant and more,
They hunted healthy loot.
Loot, loot, loot!

The prize they sought was nothing less
Than a sweet jewel for our plates.
Imagine Popenoe's happiness
When they sent home tons of dates.
Dates, dates, dates!

Sons Paul and Wilson helped to build
Nurseries to grow
Outlets new and vast for the date and avocado.
Great new things to eat!
Eat, eat, eat!

As officer of hygiene,
War asked for something more:
For Paul to keep his barracks clean —
from V.D., hooch, and whores!
Whores, whores, whores!
Whores, whores, whores! (harmonize upward)

From hygiene to eugenics
Was a simple step for Paul.
He s'pported sterilization, too,
To cull those who appall.
Snip, snip, snip!Then, Pasadena Betterment folks
Lent Paul lots of green
To invent a marriage-saving technique .
He called it marriage couns'ling!
Marriage coun-sel-ing!"Can This Marriage Be Saved," he asked?
Ladies Home Journal must know.
Paul said sure, just take my cure,
To salve those marital woes.
Woes, woes, woes!Wilson stuck to the family trade
Of studying plants and seeds
South to Honduras headed he,
An Ag school there to lead.
Lead, lead, lead!This is enough of the Popenoes,
Interesting though it be
An unknown page, another part
Of Altadena's Histor-ee!


Histor-ee, histor-ee! (harmony)

© 2016 Michele Zack
* Michele Zack explains the history behind her "Ballad of the Popenoes"
Frederick O. Popenoe established Altadena's West India Garden in 1908; he and other family members played historic roles over the next 60 years that reflected their times and affected popular culture and even world history.
The Popenoes introduced new foods from other parts of the world: avocados, dates, persimmons, macadamia nuts, and more, along with ornamental landscaping materials, to newcomers pouring into Southern California after the turn of the 20th century. Our region was filling up with US and foreign migrants — and establishing a regional culture of healthy eating, the exotic, and living in close relationship to nature and the outdoors.
The next Popenoe generation carried on these themes, with one son, Paul, taking a detour into the darker side of the Progressive Age by applying the family expertise in plant breeding to human beings. He was among the Eugenics movement's most articulate spokesmen in the 1930s, the co-author of several works published by the Pasadena-based Human Betterment Association that were used by Hitler's Third Reich to justify the Holocaust.
The ideas behind Eugenics were also applied close to home to implement the forced sterilization of thousands of people, mostly inmates of mental institutions deemed unfit to procreate. California led the US in this practice —about 20,000 people in our state were sterilized before such programs were outlawed in the 1970s.
Eugenics began its fall from grace as a legitimate science even before WWII — and Paul Popenoe, too, shifted his focus, again supported by the Human Betterment Foundation. He moved from Eugenics-based genetic counseling of prospective marriage partners to found the new practice of marriage counseling after WWII. Soon, this expanded into family counseling, and beginning in the 1950s, he co-authored the most popular Ladies Home Journal column of all time — "Can This Marriage Be Saved?" — which spread new ideas of how to deal with marital and family discord.
History isn't usually unrelated to our present lives — more often than not, interesting examples can be found in the town, or even the street, where you live.