Altadena Heritage was founded in the early 1980s, when many beautiful old homes and mansions were being demolished and replaced with tract developments, placing our community's architectural heritage in peril. Members at the time did a comprehensive survey of the existing pre-war homes, and conducted research on builders and architects. This information was encoded in a searchable database kept in our office along with a trove of old real estate documents, enabling those who want to research their houses to find this information. Old Marengo Park was developed as a joint project of the Altadena Watershed Committee, the Arroyos and Foothills Conservancy, and Altadena Heritage. Altadena Heritage does regular park maintenance, and last summer shared the expense of tree-trimming with the Arroyos and Foothills Conservancy. Anyone interested in joining our Park Maintenance Team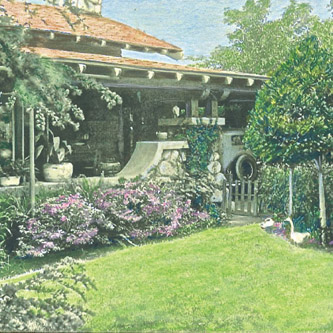 In 2009, Altadena Heritage launched Heritage of Abundance, a series of lectures and workshops that educate its residents on a variety of sustainable living topics. Altadena Heritage invited local experts to lead talks on topics reflecting Altadena Heritage's core preservation and community education efforts.
Featured topics have included urban homesteading, growing backyard fruit, the benefits of preserving and restoring historic windows, and more.