Celebrate & Recognize Community
Altadena Heritage addresses its mission to raise awareness of our foothill community's rich architectural, environmental, and cultural heritage by recognizing places that make Altadena unique. This work includes periodically designating sites and whole neighborhoods as Altadena Heritage Areas through our AHA! Program, annually celebrating gardens that give to the beauty of our streets in the Golden Poppy Awards and Garden Party, and holding other special programs that give members access to special places in our community.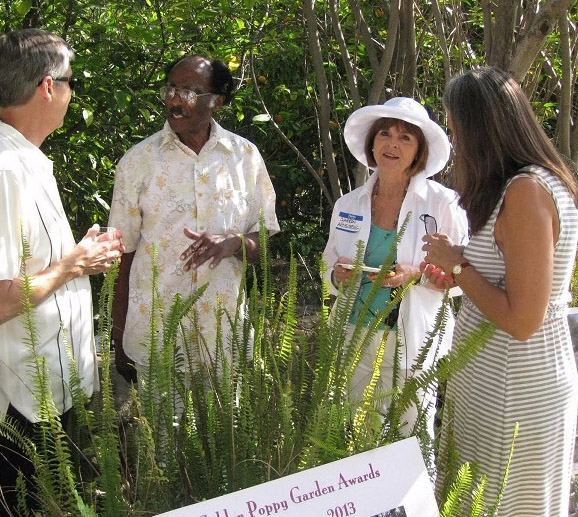 From time to time someone nominates, and our board designates, an Altadena Heritage Area or AHA! An AHA can be a street, a neighborhood or a place that stands out for one reason or another and has fostered its own community.
It all started because Los Angeles is the only major county in California without a historic preservation ordinance, and we are always looking for a way to recognize and raise awareness of the wealth of interesting historic homes and neighborhoods in our town.
AHA? Uh-huh! AH Designates a New Altadena Heritage Area On a sunny Saturday, October 19th, 2013, Altadena Heritage celebrated our rich equestrian past and present by designating the area loosely bounded by Ridgeview Drive, Mariposa, Casitas and Hahamongna another...
Golden Poppy Awards and Garden Party
Golden Poppy Garden Awards and Celebration This year's Golden Poppy will be held at the home of Michele Zack and Mark Goldschmidt. Their Mediterranean-revival house was designed and built in 1922-3 by noted artist of the Golden Age of Illustration, Frank Brown. It is...
More than 130 people gathered at the distinctive Green Man Lodge on May 21 for Altadena Heritage's 13th annual Golden Poppy Spring Garden Celebration and Awards. Steve Pribyl provided shimmering live music on his uilleann pipes, an Irish folk woodwind related to bagpipes. The usual abundance of food came with wine and bubbly supplied by board member Gail Casburn of the Altadena Ale & Wine House, and beer donated by member Mark Jilg of the Craftsman Brewing Company.
Altadena Heritage has held garden parties ever since its inception in 1988. In 2004, the Golden Poppy Awards were added to the annual Spring/Summer garden party event. These awards recognize gardens that "present to the street," enhancing the community for everyone.
Altadena Heritage sponsors activities in many of the special and hidden places in this diverse and unusual community. Each spring we hold a Garden Event in one of Altadena's outstanding private gardens.
In 2010, even though the Angeles Forest was closed, we arranged to take members to adjacent private land to see spectacular display wildflowers that bloom only following a fire. When we find a really worthy theme, we host a home tour.
One of Altadena Heritage's most important missions is to foster a sense of community. We do this in a number of ways:
• Annual Holiday Celebration & Members Meeting
• Events at Altadena pubs and restaurants
• Home and garden tours