Advocate for Positive Change
In unincorporated Los Angeles County, a "Community Standards District" (CSD) is an addendum to the zoning code. It allows deviations and changes from County codes to be tailored to the needs, desires, and special circumstances of a particular community.
The "White Paper" Coalition – a coalition of Altadena organizations (Altadena Chamber of Commerce, the Altadena Historical Society, Altadena Heritage, The Altadena Children's Center director, the Principal, School Site Council, and PTA of Eliot Arts Magnet Academy, and Neighbors Building a Better Altadena) with concerns about the Lake/Calaveras development.
The proposed Devil's Gate Dam sediment removal project will impact Altadena greatly, and for years to come. At December's annual meeting, members voted to present Altadena Heritage's position on this project by responding to the Draft Environmental Impact Report prepared by the Water Resources Division of L.A. County's Department of Public Works.
Altadena Heritage held a special public forum to demystify issues and answer questions swirling around present and future water supply…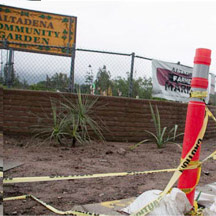 Altadena Heritage supports Altadena Community Garden The Altadena Community Garden (ACG) Corner Revitalization Project has launched a capital campaign to raise $14,000 to complete a planting project on the corner of Lincoln Ave. and Palm St. The three formal planting...