Advocate for Positive Change
Altadena was founded as an unincorporated community of Los Angeles County in 1887 and remains the same today. This means we have no local governing bodies or revenues to address community issues and needs; rather, our public services come through Los Angeles County. Our main elected representative is the County Supervisor for District 5, Kathryn Barger; her field representative for Altadena is Sussy Nemer.
The Supervisor's office established the Altadena Town Council to act as an ombudsman for conveying resident needs and wishes to government bodies and to provide a town meeting forum for discussing issues of concern to the community. The ATC consists of 16 elected representatives — two from each of Altadena's eight census tracts.
Altadena Heritage is the largest of several local nonprofit organizations that give voice to specific concerns – in our case, to our mission of preserving, protecting, and raising awareness of cultural and environmental issues. We do this by attending ATC monthly meetings as well as meetings of County departments, such as Public Works and Regional Planning. We also hold special events to inform members and the community in general about relevant issues.
Grant Lets Water Flow at Old Marengo Park! Altadena Heritage would like to gratefully acknowledge a grant of $1000 from the City of Pasadena to pay for water at Old Marengo Park, an Altadena Heritage Area (AHA) dedicated in 2012. Heritage partnered with Altadena...
Altadena Heritage held a special public forum to demystify issues and answer questions swirling around present and future water supply…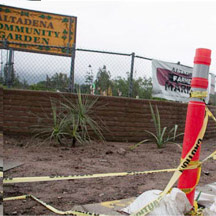 Altadena Heritage supports Altadena Community Garden The Altadena Community Garden (ACG) Corner Revitalization Project has launched a capital campaign to raise $14,000 to complete a planting project on the corner of Lincoln Ave. and Palm St. The three formal planting...